Gates County Public Schools Educator Selected to Participate in Statewide NCBCE Teachers@Work® Program
Central Middle School Teacher to Spend Week at Nucor This Summer
Gatesville, NC – June 20, 2016: The Gates County Public Schools district is pleased to announce that Central Middle School teacher Tracy Fletcher has been selected to participate in the statewide North Carolina Business Committee for Education's (NCBCE) Teachers @Work® program this summer.
Teachers @Work® is a joint initiative between NCBCE and the North Carolina Department of Public Instruction (NCDPI). The partnership links education and the business community in order to help teachers create relevance between their classroom curriculum and the skill sets needed by local businesses.
"Teachers know the hard skills to teach their students, but they also need to see first-hand how those skills are being used in their local businesses," said Sue Breckenridge, Executive Director, NCBCE. "This will help them make more relevant connections for their students so that learning is about real-world applications and not abstract ideas."
As part of the program, participating teachers will spend one week during their summer monitoring a local company in or close to their community. Teachers will be paired with employees of the company and will be exposed to different aspects of the business. At the end of the on-site program, the teacher will create a lesson plan that showcases both hard and soft skills needed by future employees that are specific to their partnering business or industry.
Ms. Fletcher teaches career and technical education courses. Her week on-site with Nucour will be July 11-15, 2016. She will be among 51 middle and high school teachers from throughout the state who will be participating in the 2016 NCBCE Teachers@Work® program. Each of the state's eight education regions will be represented by at least two teachers in this year's initiative.
Superintendent Dr. Barry Williams said, "the Teachers@Work Program is a great initiative that offers our teachers the opportunity to serve as partners with local businesses and gain real world experiences as well as on the job training. This experience will allow Ms. Fletcher to step into the business world and gain valuable experiences that she can utilize to help our students establish those real world connections they need in order to understand how business communities and schools are inter-related. We look forward to Ms. Fletcher being able to infuse her knowledge into the classroom to strengthen the academic skill of our students."
Teachers @Work® is made possible by grants from Biogen, GSK and State Farm.
For more information about Teachers @Work®, visit www.ncbce.org.
About the North Carolina Business Committee for Education (NCBCE)
The North Carolina Business Committee for Education is a 501(c)(3) nonprofit comprised of business leaders from across the state. NCBCE is the leadership organization that connects businesses, educators, students and policy makers to support workforce development ensuring NC has a vibrant economy.
*****
Substance Use Prevention Training for Middle Schools
On June 15-16, 2016, Ms. Carolyn Eason, staff member at Central Middle School, attended the "Keepin It Real" substance use prevention training sponsored by Albemarle Regional Health Services (ARHS). ARHS staff brought the trainings to the area through the Project Lazarus grant that focuses on preventing prescription medication and opioid poisoning.
*****
Community Center Park Ribbon Cutting Ceremony Held
June 22, 2016 – Ms. Lulu Eure and her staff at the Gates County Community Center celebrated the Ribbon Cutting Ceremony today for the "Community Center Park."
Construction of the new park has been ongoing since last fall. Funding came from the Trillium's Play Together Accessible Playground grant. These grants provide towns with the ability to build fully accessible, all-inclusive playgrounds for individuals with special needs and physical disabilities. Speakers for the ceremony were Natalie Rountree, County Manager of Gates County, and Amy Corbitt, Project Manager, Trillium Health Resources.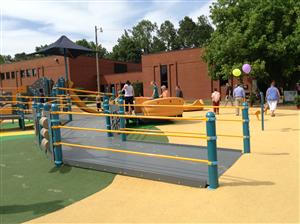 *****
P. O. Box 125 205 Main Street