FACT SHEET
Central Middle School was constructed in three major phases:
1957 and is currently used as the 8th grade.
1965 and is the 7th grade.
1997 is the 6th grade.
The 7th and 8th grade buildings have many structural and costly recurring deficiencies.
The entire campus has been accessed both by NCDPI engineers and independent Architectural Firms with a staff of engineers doing an extensive structural evaluation in 2013-2014-2015.
Central Middle School Deficiencies and Hazards Summary
1.Health hazards
Asbestos present on overhead piping and in floor covering
Lead in pre 1978 painting throughout the buildings.
Lead high probability in renovated copper solder potable water supply piping.
All original potable piping abandoned in 1957 and 1965 buildings 10+ years ago.
Excessive moisture in classrooms causing recurring mold complaints.
Recurring mold on single pane windows due to excess building moisture.
Termites swarm periodically in classrooms and media center.
No ADA facilities in 1957 building. One each male/ female staff bathroom in '65 building.
No hot water to many bathroom lavatories and locker room showers.
2. Safety
ADA facilities non existent in '57 and minimal in '65 buildings.
Risk of roof collapse due to degradation of roof structure on 1957 building and gym.
Risk of wall collapse due to no reinforcement of external or internal wall systems.
Doorways and hardware does not meet lockdown or new school safety code.
13 separate outside doorways on 3 buildings with an additional 5 doors exiting front lobby.
No controlled access or security for 3 satellite trailer classrooms.
Exceptional children's trailer located 200' feet from main campus. Must navigate a wooden ramp and deck to access. Heating, cooling, mold, and structural durability issues are constant.
Bleachers in gym are high maintenance and at end of life.
Antiquated camera system/Antiquated fire alarm system.
Building security system only on 30% of the facility. No automated lockdown system of doors.
Antiquated key entry system.
Storm drains adjacent to the school subject to recurring potholes. Trip hazards.
3. Structural
Roof and wall load bearing capacity does not meet any modern standards.
I beams were retrofitted into 8th grade classrooms to support overhead air conditioners.
Lintels above 7th and 8th grade window walls are not rated for additional weight load.
Brick and block exterior walls on 7th 8th grades have no airspace that permit insulation.
All windows in '57 and '65 buildings need immediate replacement.
No overhead insulation in '57 and '65 buildings.
*Locker rooms at gym are in condemnable condition.
4. Traffic
No stacking lane for adequate rider pickup. Many accidents at intersection of Hwy 158.
School bus loading is located in overflow parking lot.
No adequate parking for athletic events.
Crosswalk at rear driveway for all mobile unit students and exceptional students at rear of school is a pedestrian safety risk.
Open sidewalk between "57 and '65 buildings extreme security risk is accessible to vehicles.
5. Electrical
Two separate services coming from the power company.
None of the original wiring has any modern grounding.
Antiquated open ceiling T12 fluorescents in 8th grade wing.
Inadequate and unsafe wiring in computer lab 8th grade wing.
Wastewater sewer pumps and control wiring at end of life.
Several different meters from power company creating additional fees on power bill.
Exposed 208/ 460 volt electrical panels in hallways from 1998 renovation.
6. Maintenance
Repeated expenditures for mold and ceiling leaks.
80% of the building locks and hardware needs replacement.
Most panic bars and doors in older buildings do not meet code.
Excessive fuel used in dysfunctional boiler steam and condensate system.
Boiler only operates on low fire because of fracturing the corroded steel pipe in the system.
Subsurface boiler condensate return pumps risk of flooding.
Wall radiators have condensate piping bored thru walls and direct buried into soil. No insulation.
No modern HVAC controls for safety or cost savings.
A boiler diesel fuel leak will contaminate the stream directly behind the school which leads to nearby creek. Plastic diesel fuel transfer line is not encased in a protective sleeve.
Recurring sewer and lift station stoppages.
Spending local funds on building deficiencies that cannot be abated.
7. Instructional
Classrooms have poor heat, cooling and are prone to roof leaks that disrupt conducive learning. Staff and students are moved to alternate rooms due to leaks and mold.
Many computers are on mobile carts due to lack of technology infrastructure.
Adequate classroom space and support utilities for science, technology, art, music, mathematics, handicapped children, physical fitness, and sports are minimal to nonexistent.
The piano tutoring room is in a custodial closet next to the boiler room that can accommodate 3 people. This room does not have air conditioning or adequate ventilation.
The football changing room is a 55 year old unheated open metal shed adjacent to the gym. Parents are increasingly seeking alternative schooling options to avoid sending their children to Central Middle School.
8. Compliance
Kitchen foodservice equipment and ventilation is not up to current Code.
Modular trailer classrooms will have to be purchased or rented during a renovation.
The above data is the basis of all consultants that have assessed these buildings that the far best value to the District and County taxpayers is total replacement of the '57 and '65 structures. As the Superintendent of Gates County Public Schools I have addressed facility issues since 2012.
References include:
ü Dr. Jim Watson, Past Superintendent Lincoln NC leads Pinnacle Architecture
ü Dr. Jeff Perry, Superintendent Wythe County VA constructed schools with Ballard Architecture
ü Pinnacle Architecture, Farkas Architecture, Ballard Architecture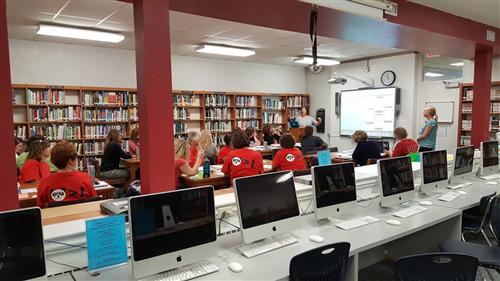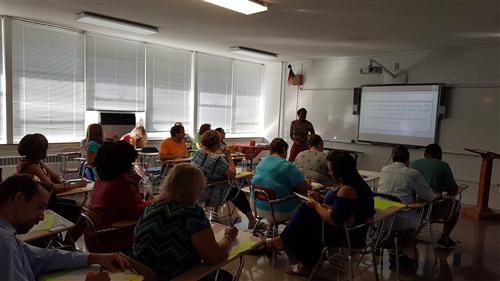 *****
From the Desk of the Superintendent, Dr. Barry Williams
Hello Gates County Citizens,
Over the summer our wonderful support staff has been working to make sure that everything is ready for our students as we launch a new school year. It's certain to be a good one because our school system is the best!
The Board of Education and County Commissioners have the same vision for Gates County and have committed to embrace change for our students by having a New Middle School on the ballot in November. Our students need your vote. This is extremely important for our students!! More campaign information will be provided through meetings, forums, social media, the Index and other special events.
In Gates County we have clearly demonstrated that we have the ingenuity to make the most of what we have. I am proud that we are committed to functioning as a team, committed to each other's success. All students belong to all of us, and this year I know we will continue to work together to ensure that every student learns. We will again have high expectations, continuously assess our progress toward achieving them, and stay focused on results. This district is committed to continuous improvement.
John Fitzgerald Kennedy said, "Change is the law of life. And those who look only to the past or present are certain to miss the future." The children are the future - we must never lose sight of this. That's not to say we don't have some important educational traditions. We do, and we are anchored by them."
Together we will again this year strive to seek and implement the right initiatives to keep us moving forward. I'd like to quote King Whitney, Jr. who said, "Change has a considerable psychological impact on the human mind. To the fearful it is threatening because it means that things may get worse. To the hopeful it is encouraging because things may get better. To the confident it is inspiring because the challenge exists to make things better." We must not let ourselves feel threatened by change, but rather encouraged and inspired by hope and confidence.
Please never forget that we have the utmost respect for what our teachers do and the difference they make. In the spirit of collaboration, please remember the importance of honest and open communication. We must work together to share our views and opinions with others as well as endeavor to hear and consider input from others. Let us recognize and appreciate each other's efforts and dedication.
We want our students to always remember that we created for them an atmosphere of caring, compassion and humor.
Additional highlights our school system has accomplished over the summer…
On July 18-19th we experienced a fantastic administrative retreat with a dynamic speaker Dr. Althea Riddick, Mr. John Leidy (Attorney at Law) and Mrs. Reba Green-Holley.
The Career and Technical Education Department is excited to announce the installation of a new STEM lab at the high school! Teachers prepared and presented STEM lessons to a select group of students during a six-day seminar sponsored by East Carolina University Department of Mathematics, Science, and Instructional Technology, East Carolina STEM CoRE(Collaboration for Research in Education) and Innov8 Consulting. The professional development, entitled "Incorporating 3D Printing in Integrated CTE Instruction" also addressed Problem-Based Learning and Human Centered Design. Look for the new district Career and Technical Education website coming soon! Here you will find a wealth of information about CTE initatives, locally and across the state.
Convocation on August 22nd motivated and inspired our employees for an exciting start with special surprise guests Dr. Althea Riddick and Mr. Doug Lilley.
Professional Development throughout the district was prepared by our teachers for our teachers with new ideas and instructional designs to be used in the classrooms;
Our testing and accountability data center will be located at the High School. The center is state of the art. The center is the hub for all any information we can use to disaggregate data to validate strengths and target weaknesses. It will be the Google for Gates County!!
At the Financial and Business Services Summer Conference in July, Gates County Schools was recognized with a "Recognition of Achievement" Certificate for excellence in management of the North Carolina State Public School Fund for Fiscal Year 2014-2015.
Also in July, the Finance Department completed the training program for school finance and were awarded the NCASBO Certified School Business Specialist (CSBS) Certificate.
Gates County High and Central Middle School were honored for prestigious recognition of our National Beta Club membership status. Our school names were recognized in New Orleans.
Dr. Jared Miller, a Sports Medicine physician with Sentara, has provided a contract for our new athletic trainer. This is exciting, essential and necessary for this medical care to be available for our athletes and students.
In the Technology Department
1) All wireless access points have been configured
2) Upgraded systems throughout the district, with more to come
3) Put additional Chromebooks in place
3) Currently support over 2100 devices throughout the district
4) District-wide implementation of web-based technology support using the following form:
https://docs.google.com/a/gatescountyschools.net/forms/d/1fd3EzKKL2mC-ClE82zzGMgII4xVZeSMslug4rWeDGUE/viewform
Welcome back for another GREAT year!!
Dr. Barry Williams, Superintendent of Schools
P. O. Box 125 205 Main Street